Thursday, February 20th
New Happy Hour Menu at Havana 1920
5-7pm | 548 5th Ave, San Diego
One of the best happy hour menus in the gaslamp just got better and you're invited! Havana 1920 launches their new Happy Hour menu on Thursday, 2/20. Enjoy complimentary bites from the new menu, 5-7pm. Whether you want to take a little company trip, or discover a Cuban themed getaway while sipping on some cocktails, this is one of the best announcements in the Gaslamp! Check out all the info on their website with the link above.
At Home Entertainment from The Roster
SiriusXM: Listen Live at 7pm Pacific Time
Spotify: Listen to previous episodes and subscribe
7pm PST / 10 pm EST | Sirius XM Chanel 13
This week on the show, we have a true legend in the game, one of the best DJ's in the country, the newest member of The Roster DJ Crew, DJ Karma. Karma has been holding down Las Vegas and holds residencies at some of the biggest and best venues on the strip. He's put together an amazing set showcasing his high level abilities for listeners. Also on the show, They're introducing the newest member of the Globalization family as well as up and coming Artist/Producer NEZ. Definitely a jam-packed show you won't want to miss!
Friday, February 21st
Tony Tone at On The Record Las Vegas
A local favorite originally from the Bay Area, but now DJing up a storm in San Diego is headed to Las Vegas. Tony Tone will play at On The Record speakeasy and club in Las Vegas. Unexpected discoveries and songs that stop you in your tracks. The joy of hanging out in a record store is the inspiration for Park MGM's speakeasy and club experience. On the Record is a love letter to long-lost music hubs and an exciting way to spend your nights in Vegas. The two-story record store speakeasy sports hidden karaoke suites, an intimate Vinyl Parlor, a double-decker bus DJ booth and craft cocktails designed by master mixologists.
Saturday, February 22nd
Hip Hop sensation YG is back and ready to bring the party to San Diego once again! Tickets are on sale and VIP tables are running low so make sure you make your plans asap as always you can DM us on Instagram at @partynakedsd or use the link above to get your plans locked in!
10:30pm | 3950 S Las Vegas Blvd, Las Vegas, CA 89119
Get your tickets now to see E-40 at LIGHT Vegas on February 21st! The LIGHT Vegas in Mandalay Bay merges cutting-edge creativity with incredible music to produce a unique nightlife entertainment. LIGHT features the best open format music from Electronic Dance Music, Hip Hop, Top 40s and a wide range of great hits to give you the best Las Vegas nightclub experience. Every experience at LIGHT is unique and no two nights are the same. Guests can indulge in incredible views of performers, and dancers as they party the night away at this state-of-the-art nightlife venue. LIGHT's massive LED screens captivate the senses and give each guest a submerged experience making it so there is no bad seat in the house, as the world-class sound system keeps energy high.
7pm | 1872 Rosecrans St. San Diego
Goodbar is turning 2! You are invited to celebrate their birthday with them on February 22nd! There will be drinks, live music, and food from Surf Side Deli!
Free entry
Sunday, February 23rd
Recess For Adults in Liberty Station
2455 Crushing Rd. San Diego
Come battle it out with the most awesome people in SAN DIEGO!
Experience fitness re-imagined! This is not a boot camp. I create ways to push you mentally and physically without you even knowing it! Competition brings out the best in us. Invite friends or come solo and network with some amazing people in our San Diego community. Slots are limited!!!. Come experience what it's like to be part of Synergy!
Win Free Poke for LIFE Or eat a 5lb Burrito for $500!
All Day Event | 560 5th Ave, San Diego
Come party at San Diego's premier Brunch Party and enter to win free poke for life! The winner will be announced at  You can RSVP through Nightout, but you must be present to sign up and win. Even if you don't win, there are some great drink specials like the SuperSundia that comes in a huge watermelon bowl from an actual watermelon cut in half.
El Chingon is also giving away $500 to the person that can eat a 5LB burrito the fastest! Get your free ticket to be entered. RSVP does not guarantee you into the competition. Due to high volume the first 10 people to check in day of will be competing. Check in begins at 3pm so come early to reserve your spot!
Monday, February 24th
10:30am | Petco Park
Take a tour of Petco Park and gain a great insight into our stadium in the heart of San Diego. You haven't seen Petco Park until you've gone behind-the-scenes on one of our guided tours. Discover "writer's row" in the press box, learn about the historic Western Metal Supply Co. Building and explore the Padres dugout. The crown jewel of downtown San Diego, Petco Park serves up baseball Southern California style-complete with swaying palm trees and a sandy beach beyond center field. Tickets begin at $20 with tours starting as early as 10:30am.
10am – 5pm | 2080 Pan American Plaza, San Diego
The exhibit centers on the 1970s being a decade of advancements in automobiles and other technologies, social and political events, and the dramatic change it brought to the automotive manufacturing industry. The exhibit will run until June 13 during the Auto Museums' regular hours.
Tuesday, February 25th:
7pm-2am | El Chingon
Get your green, purple, and gold outfit ready to join the Party Naked crew for a special Mardi Gras Forty-Twosdays at El Chingon. From taco and tequila flight specials to VIP bottle service, and rotating DJ's, El Chingon is the only place to be this Tuesday night!  Featuring: Half off tacos all day, Don Julio 1942 shots for $19.42, La Completa Taco Flight – All five tacos for $9.42, Margarita Flight – Blended Margarita, Madero, Battle of Juarez for $15. Oh, and plenty of beads!
Wednesday, October 30th: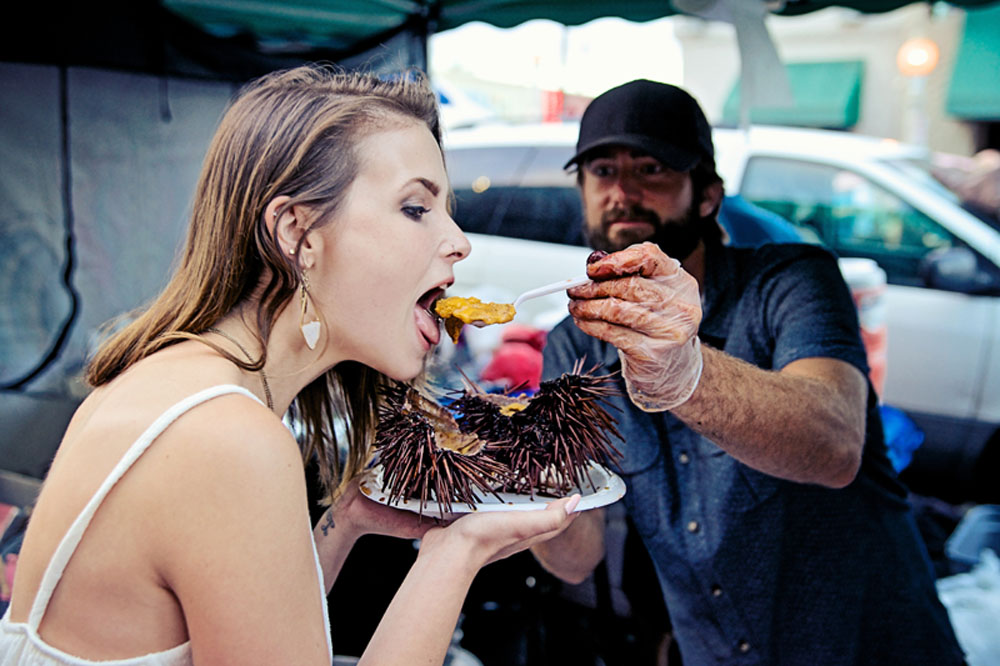 Fresh fruits and veggies are just the beginning at the OB market. Street food stalls vie for customers' attention against a backdrop of arts and crafts booths. Breathe in the delicious smells of craft mac'n'cheese, niche food vendors, and, in the immortal words of Tijuana's street hawkers, "buy something you don't need." On Newport Avenue between Cable Street and Bacon Street.
You heard that right, San Diego's new wildest spot for the nightlife and hospitality industry to let loose is at El Chingon! Say hello to some of your favorite bartenders from around San Diego as they guest bartend. Get down and get wild with live DJ music and the electric energy that only El Chingon can supply on a weekday!
Every Wednesday, enjoy 3 courses + wine for just $49 per couple! This award-winning Greek Fusion restaurant has also been featured in San Diego Magazine and is a great spot for company parties, dinner parties, and especially a romantic date night!